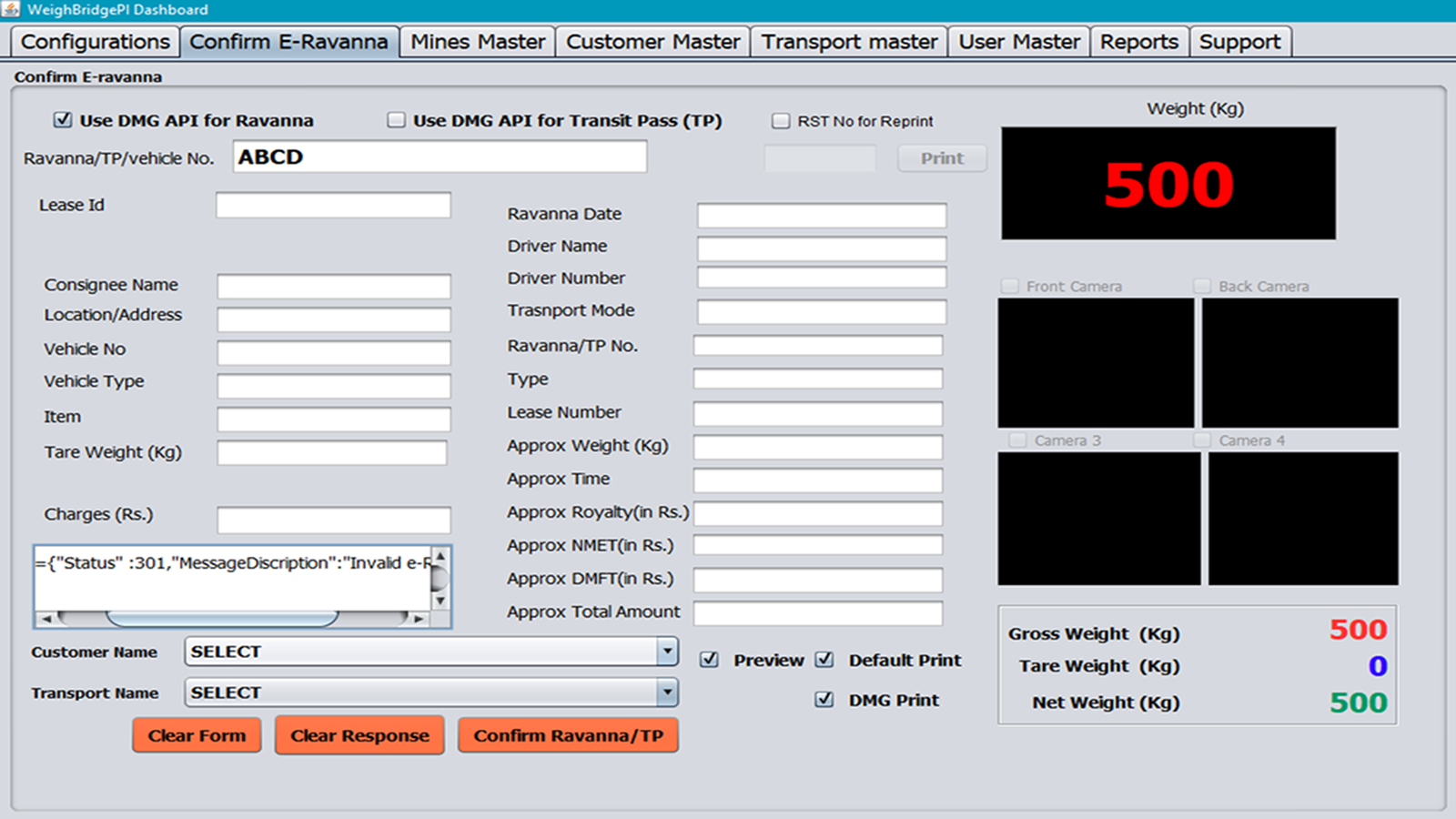 Our Software features
Are you in need of reliable and accurate weighbridge solutions for your business in Eravanna? Look no further than VertexPi Technology Pvt. Ltd.
At VertexPi Technology, we provide high-precision weighbridge solutions that are tailored to meet the unique needs of our customers in Eravanna. Our state-of-the-art weighbridges are equipped with the latest technology, ensuring accurate and consistent results every time. In addition to our advanced technology, our team of experienced professionals is dedicated to providing exceptional customer service. We will work closely with you to understand your specific requirements and provide personalized solutions that meet your needs.
With VertexPi Technology, you can trust that your weighbridge solutions are in good hands. We are committed to providing the highest quality products and services, ensuring your complete satisfaction.
Contact us today to learn more about our weighbridge solutions and how they can benefit your business in Eravanna. Let us help you achieve accurate and reliable results, so you can focus on running your business.
Weighbridge e-Ravanna and Transit-Pass (TP) Software (COMPLIANCE WITH LATEST REGULATIONS OF DEPARTMENT OF MINES AND GEOLOGY, RAJASTHAN) We provide you an easy to use window based Weighbridge e-ravanna software which is a weighing and computing system with extensive data extraction, collection and processing functions. This Weighbridge software solution is designed to help you to manage and track the critical information created at the time of weighing and label products in an easy and flexible manner. Weighbridge Software uses Weighbridge Intelligent Terminal/Indicator which is a compact and powerful alphanumeric terminal, which is designed for many weighing applications. The provided system is highly appreciated by our clients for its long operational life and high functionality. Furthermore, to avoid any flaws, the offered system is strictly tested by our skilled quality controllers on several quality parameters.
E-Ravanna

E-Ravanna confirm new webservices approved by DMG

Transit-Pass (TP)

Transit-Pass (TP) confirm approved by DMG

Customers & Transport Master

Customer Master to maintain the customer data. Transport Master to maintain transport data.

Various Reports

Various Reports i.e. Mines/Dates/Eravanna or TP wise. SMS to any number when confirming E-ravanna/Transit-pass (TP).
GST Receipts

GST receipts for TP/E-Ravanna. It ensures an easy, quick and error-free calculation..

Mines Master

Mines master where you can maintain your lease and mines data. Generate ERavanna & TP from there also.

Export reports

Export reports in excel, pdf, doc or any format. Save e-Ravanna or TRansit-Pass (TP) confirmed receipt in PDF

Supporting CCTV/IP Cameras

Supporting CCTV/IP Cameras
UPDATES:
Our Software is supporting IP/CCTV Cameras IMPORTANT (FOR CAMERA INTEGRATION)
1) download and install update from https://www.vertexpi.com/mysetup.exe
2) download and install VLC 32 bit from https://www.videolan.org/vlc/download-windows.html
3) in USERMASTER section select camera type "CCTV" and enter IP and login/password of camera. If you have already installed it then please download LATEST UPDATES 06th March 2021 update_06_03_2021 and run it to update the installed version. (updated at 06/03/2021)
PLEASE DO NOT PAY ANY EXTRA CHARGES TO ANYONE TO GET YOUR SOFTWARE UPDATED (For CAMERAS). UPDATES ARE TOTALLY FREE AND IF SOMEONE ASKS FOR EXTRA PAYMENT

THEN CALL US DIRECTLY AND GET IT UPDATED FOR FREE OF CHARGE.
कृपया अपने सॉफ़्टवेयर को अपडेट करने के लिए किसी भी अतिरिक्त शुल्क का भुगतान न करें। UPDATES पूरी तरह से निःशुल्क हैं और अगर किसी ने अतिरिक्त भुगतान के लिए कहा है तो सीधे हमें कॉल करें और UPDATES निःशुल्क प्राप्त करें।